IN MEMORIAM
Jack Huffman Presenting the Eunice Huffman Memorial Donation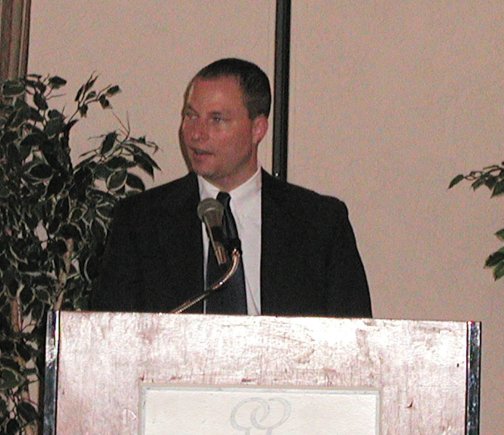 A highlight at the 2001 DCA Awards Dinner was the contribution made to the Health and Welfare Trust Fund by Jack Huffman in memory of his mother, well known and respected dachshund breeder and judge, Eunice Huffman. Jack spoke movingly of his motherís dedication to her family and of her devotion to the dachshund in a speech that reminded many attendees of the fine traits of the woman they had counted a friend.
Jack concluded his lovely tribute to his mother by making a personal donation of $5,000.00 in her memory, and then informed the gathering that Microsoft Corporation had pledged to match that donation.
This was the first donation to the Trust Fund in memory of someone who cared deeply for the breed, and Jack said that he hoped that it would inspire many others to remember their departed dachshund-loving friends or family members in a similar manner.
The Dachshund Club of America Health and Welfare Trust Fund is extremely grateful to Jack Huffman for remembering his mother, Eunice Huffman, in this way, with a donation that will work for years after her life has ended toward benefiting the breed that she devoted so much of her life to loving.

Jack continues to make quarterly donations to the Trust Fund in Eunice's memory and Microsoft matches each donation. This ongoing contribution has made a significant difference to the Trust Fund and is greatly appreciated.